We are headed to Honduras!
It was not easy…but we are on the plane headed south.
Our group of 58 met at the American Airlines at 4 a.m. and began the long check in process.  We had at least 116 bags to check! (Three of our group are already in Honduras, and two flew Delta.)
They checked as a group, the computers were slow, and they would not allow two agents in the same group at one time…also I was paying $40 for each extra bag…and we tried to take three..but they embargoed extra bags…so my trusty assistants (Amy Bowman and Katie Culberson along with Michael Linn and Roberto Santiago) helped to get the luggage in line and they took back the three bags we could not get on the plane.
Walt Leaver and Jeff Muse helped to drive a our buses/vans.  At one point during check in, I was over the counter tagging the bags and helping to get the, on the belt!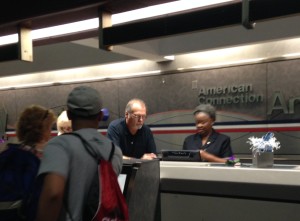 I was the last one through security (Barbara was TSA pre approved so she breezed through).  I was still at the scan machine…at our scheduled departure time…however the American gate workers and the plane captain held the plane until  I got there…even with the aid of a wheel chair.  A nice man gave me a lift, as he heardI have a replaced knee and running is not something that I do much anymore. However, I had to jump off the wheel chair and run to the plane…I had emptied my pockets for the scan…and had no cash to tip him…and he was literally running as he pushed me…I hope I will have another chance to spot him some day and reward him.
Everyone else was on the plane, and they had been told they were holding it for me…so my group was supportive with claps.  It is about the 4th or 5th time 1 have literally had to run to the gate…or be pushed by someone was was running?  (I really felt bad for him.)
Luggage is another issue.  We have no idea if it will all make it.  We missed the cut off, but we are hoping the delay will get our bags to TGU!
I hope to share a lot this week, and if I get some time share more about camp, and the senior camp…."lockdown to Lockin".
Katie and Amy might help me with some updates from the states.   I will try to keep them posted by email.
We are about to arrive in Miami…and I will try to post this update or email it back to Nashville for posting.  Sorry I don't have a picture of the "wheel chair".
Barbara had a song on her heart this morning….the one with "Angel Army".  I feel like I had a band of angels protecting us and getting us through check-in, security and the first leg of the flight.
I pray they are with us all week.  We covet your prayers and support.
I will try to update the Journey after our arrival…but I might just have to send a message back to the staff….our arrival to our hotel will be later tonight…and I am not sure if we will have internet.